Week 1
I started in Liberty blue on September 15th on a Wednesday morning at 9 am. In the first few days that week, I was eased into things by shadowing Akville and Angela. I learned the basics around the technology used in Liberty Blue like Acquaint and Fixflo. I was also lucky enough to sit in on a marketing meeting during my first week too. It gave me great insights into the work and planning that goes on behind the scenes here in Liberty Blue. Everything is meticulously planned weeks/months in advance.
The major learning curve that week:
The marketing machine that goes on in the background.
Week 2
General learnings of business conduct with phone calls, emails, dealing with landlords and tenants and logging details into Acquaint.
The major learning curve that week:
A tenant issue arose in a property relating to water coming through the ceiling from the apartment above. Angela and I were sent to go investigate the property and assess the damage.
We met the tenants and explained their options which were to stay in the property, get temporarily moved to another location while we get works done and move back in. If they had another property lined up, they could go there, and their deposit and months 'rent would be refunded.
We contacted the landlord and explained the situation, he agreed to move them into a hotel for a couple of days while we got another property ready for the tenants.
Ultimately they decided to accept our offer to relocate them while the works were being completed.
I got to experience how Liberty Blue responds to an emergency and how to handle it. Taking care of our residents is really important to Liberty Blue.
Week 3
Building on the general learnings of business conduct with phone calls, emails, dealing with landlords and tenants and logging details into Acquaint from the previous weeks.
I was back on a building site in a different role this time around which was so refreshing, beautiful new house builds in Waterford that will be ready on the other side of Christmas. On the same day, I also got to see a beautiful 6-bedroom property out in Dunhill on an acre of land with beautiful views of the Waterford countryside.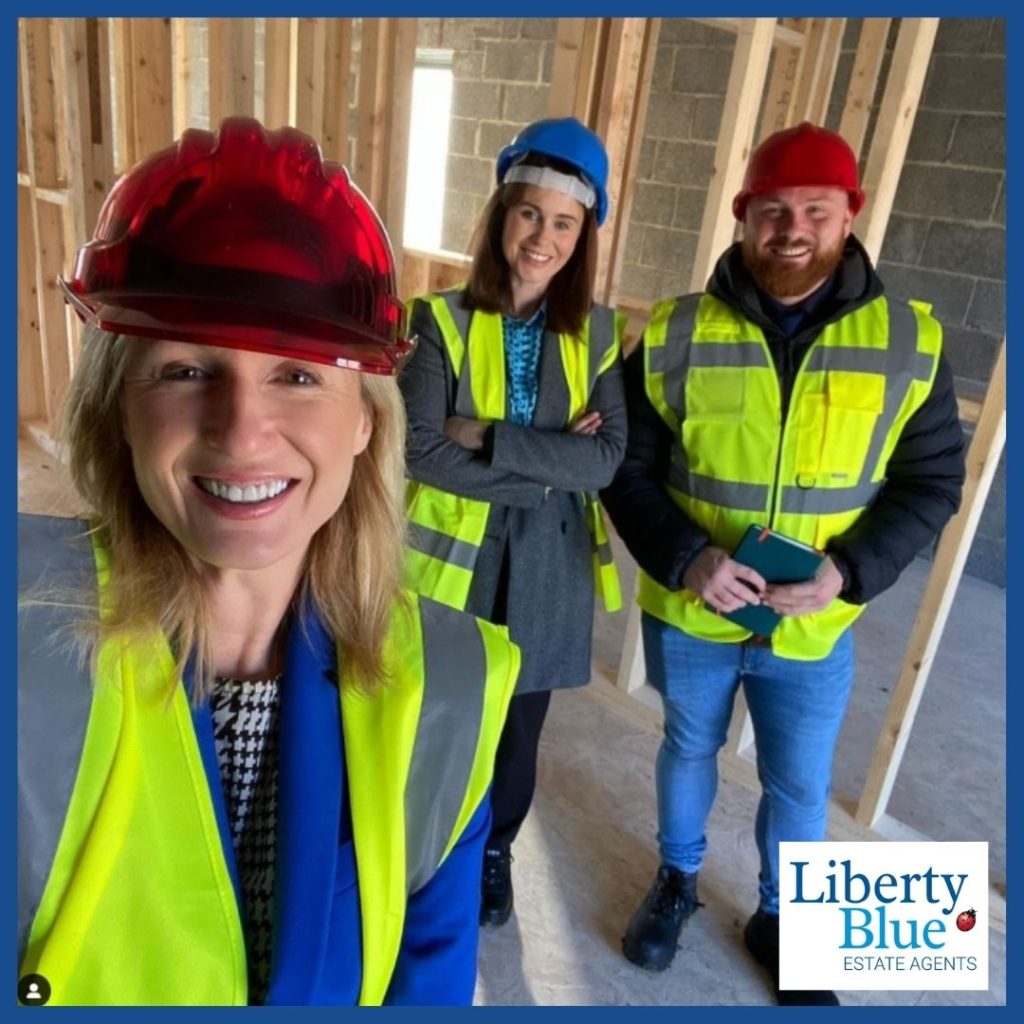 I did my first Facebook live with Regina at Dunhill property, not a great performance by me by any means.
I also learned during the week how to use planet verify, mainly the purging of documents for GDPR reasons.
I went to my first house inspection with Maria, we arrived at the property which was not in good order. They completely neglected their duties as tenants to keep the house in good order, only in the property 6 months and it was filthy, walls destroyed with markers and pen, dirt all over the windows and then they had another person staying at the property which was in breach of their contract.
The tenants have since moved out.
The major learning curve that week:
Don't breathe like a horse on a Facebook live. :-)
Just because someone has a good job, it doesn't mean they will be a good tenant.
Week 4
Out with Cormac being shown how to use the Matterport app and camera which scans properties for VR viewings. I did a take on up in Summerhill, in the end, we didn't take on the property because of numerous works that needed to be done to bring the property up to a liveable standard, such as damp issue's, old electrics, a broken bathroom window and rotten walls, to name a few.
The major learning curve that week:
Learned to use the Matterport app and camera.
Learned the basic understanding of the process of a take on. Liberty Blue will not take on properties that are not of decent condition as it goes against their policy.
Week 5
Did a photoshoot with Liberty Blue which was a lot of fun. There was also a lot of interest in Kierseys pub in Kilmacthomas. The Irish Times did a piece on it. It was interesting listening in on the phone calls between Regina and The Times journalist. I also got to sit in on a live webinar with Regina which gave out lots of great practical information for sellers to help them get a great result when selling their property.
I did my second Facebook live with Maria for a property on Francis Street which went well (didn't breathe like a horse). Maria also walked me through a mock take on for a letting in Summerhill just before the Facebook live too which was invaluable.
The major learning curve that week:
Play dead when Regina is on a live webinar, I was a bit noisy -:)
Week 6
Using the Matterport camera to map out multiple properties in various locations around the City. Cormac showed me how to use the Matterport online platform to edit and clip pictures and how to view the properties in 3D. I also learned how to order the floor plans from the site.
The major learning curve that week:
I am getting more comfortable and familiar with the various locations around Waterford City, the good and the not as good and using the Matterport and its platform is a great learning experience.
Overall, so far…
I like meeting new people, helping people with their problems if I can, I love the knowledge Regina, Maria and the team pass on. I like the culture here and the leadership here is top-notch too. Also, I enjoy not being micromanaged and I can see/like the autonomy that comes with certain aspects of the job.
Cormac Finlay on Friday, November 12, 2021 in blog, county waterford, estate agents, Featured, liberty blue, property advice, Property News and Advice, Waterford