Friday November 17th marked the start of the Winterval Festival in Waterford, which transforms Ireland's oldest city into a magical winter wonderland.
Throughout Winterval, the popular Viking Triangle and the retail heart of the city come alive with Christmas markets, Santa's Kingdom, Winterval illuminates light show, Winterval on Ice, the Waterford Eye and lots more. Attracting over 500,000 visitors, a full programme of events can be found on http://www.winterval.ie
Not sure what to choose? Check out Waterford In Your Pocket's top 10 things to do; http://www.waterfordinyourpocket.com/top-10-things-at-winterval-2017/
On Friday night the festival kicked off with the turning on of the lights. The newly developed Applemarket provided an excellent venue for the Bank of Ireland Enterprise Town Event. Local businesses showcased their services and products. A full evenings entertainment on stage added to the atmosphere and good spirit on the street. Keith Barry worked his magic on the audience – truly amazing – and there was plenty of local entertainment throughout the evening. Lisa Cannon of TV3 Xposé, presented a fashion show.
Some highlights of the evening were captured in this video – https://www.facebook.com/WaterfordIYP/videos/1592417964172132/
At the invitation of Bank Of Ireland, Waterford City, Liberty Blue Estate Agents were delighted to take part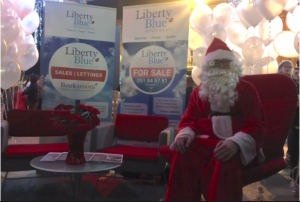 in the event. Keeping in line with the spirits of the season, I opted for a festive theme.
Whilst the treats, balloons and keyrings were a big hit it was the man with the white beard dressed in red that really stole the show.
For over three hours we were surrounded by excited little kids all eager to talk to Santa (our very own Philip and secretly- I think he loved it) and have their photos taken. Needless to say we also had plenty of big children taking selfies with Santa, but Christmas is for everyone, isn't it?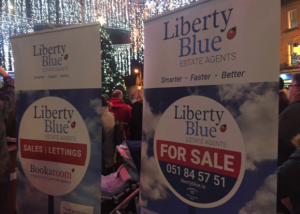 Author – Maria Clifford, Director Liberty Blue Estate Agents and Bookaroom Property Letting and Management.
Check out Maria's blog – All About the House: https://mariacliffordweb.wordpress.com